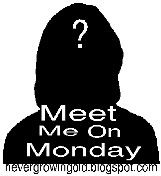 Meet Me On Monday is a meme hosted by Java at
Never Growing Old
. Each week, she posts five "get to know you" questions so that bloggers can get to know each other better. It sounds like fun, so I'm going to give it a try this week!


1)
Did you watch the Superbowl?
I watched it for all of about ten minutes...only to check the score and see if it might go into overtime so that I can get my free Papa John's Pizza =P But no- I watched part of the SVU marathon and part of the Toddlers in Tiaras marathon instead.
2)
What is the last book you read?
I just finished Kiersten White's Paranormalcy. I loved it! (Check out my review, coming later this week.)
3)
What is your favorite kind of cake?
Red velvet for sure! Mmmmm :)
4)
Do you snore?
I don't think so! At least, nobody has ever told me that I have!
5)
Do you play an instrument?
Why yes I do! I play the trumpet in the Rutgers marching, pep, and concert bands. My entire schedule pretty much revolves around band...so playing an instrument takes up the majority of my "free" time!